County Individual 2010 / 2011
The County's individual championship. All partner all and only a simple system is permitted.
The Cambs & Hunts County Individual, held at Trumpington Village College on Sunday January 16th 2011, was won by Zona Lacy.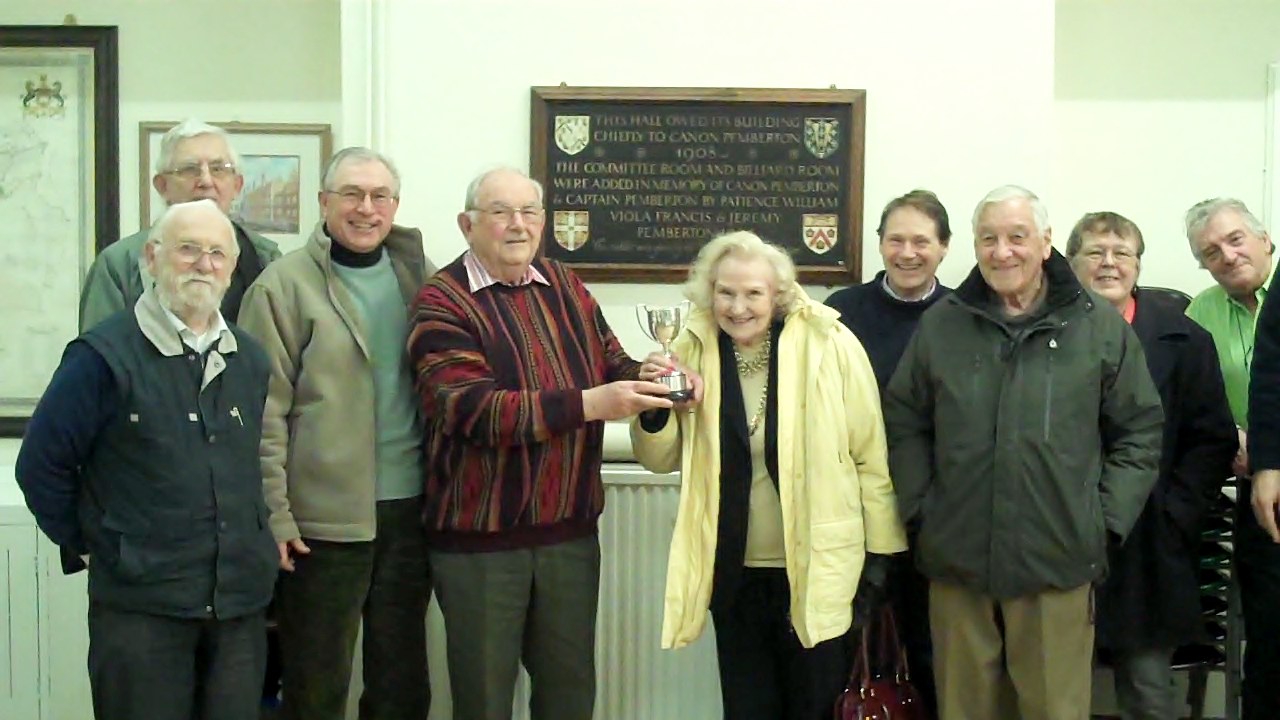 David Samuel, Peter Beavan, Michael Clydesdale, Brian Copping (presenting), Zona Lacy (winner), Simon Stokes (runner-up), Don Keiller, Verity Joubert, Ted Shaw
Zona, who qualified via the Thursday Club, and Simon, qualifying via the Cambridge Club, contended closely for first place throughout, with Simon leading at the break.
Dry Drayton held the largest heat with 29 players, so it was fitting that their chairman, Brian Copping, present the trophy.
The event was directed by Matthew Johnson and John Haslegrave, and organised by Paul Bond; Bridgepads were used for the first time in this event.
(Thanks are due to the Cambridge Club for the loan of equipment.)
The final standings were:
| Pos | | Name | | Score | | MPs |
| --- | --- | --- | --- | --- | --- | --- |
| 1 | | Zona Lacy | | 59.7 | | 413 |
| 2 | | Simon Stokes | | 57.6 | | 396 |
| 3 | | Michael Clydesdale | | 56.8 | | 380 |
| 4 | | Linda Yeatman | | 54.5 | | 363 |
| 5 | | Peter Beavan | | 53.1 | | 347 |
| 6 | | Mary Doyle | | 51.7 | | 330 |
| 7 | | Verity Joubert | | 51.5 | | 314 |
| 8 | | Peter Jackson | | 51.4 | | 297 |
| 9 | | Jane Woodhouse | | 51.1 | | 280 |
| 10 | | Neil Matthews | | 50.0 | | 264 |
| 11 | | Ted Shaw | | 49.8 | | 248 |
| 12 | | Paul Bond | | 48.8 | | 231 |
| 13 | | Mike Tedham | | 48.3 | | 215 |
| 14 | | Marie Burrows | | 48.0 | | 198 |
| 15 | | Brian Copping | | 47.6 | | 182 |
| 16 | | Don Keiller | | 45.2 | | 165 |
| 17 | | David Samuel | | 44.8 | | 149 |
| 18 | | Bettie Sweet | | 44.6 | | 132 |
| 19 | | Paul Bernal | | 43.9 | | 116 |
| 20 | | Tim Ireland | | 41.5 | | 99 |